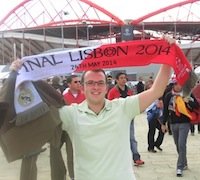 Although his team, FC Bayern Munich, unfortunately did not reach the CL final, it was a memorable and highly exciting final. In any case, Dominik was not only thrilled by the city of Lisbon, but also by Real Madrid's fantastic 4:1 victory over Athletico Madrid!
Dominik, the winner of the Lisbon trip, was kind enough to send us a few photos of his trip to the 2014 Champions Final.
"Hello Mr Ernsting, I would like to thank you for the great days in Lisbon. The visit to the Champions League Final will always remain a lasting memory for me. In addition to this unique experience, I was also able to visit the usual sights during the three days. My personal highlights of the sights were the lighthouse in Belem and S. Jorge Castle. A big thank you also goes to the travel agency Faltin Travel. From departure to return, they planned everything perfectly. Enclosed are a few pictures from the trip. ..."
We are delighted that our prize was so well received and will definitely come up with something great again for the 2015 broker poll!