Lang & Schwarz AG was founded in 1996 and has been listed on the regulated market of the Frankfurt Stock Exchange since 2006.
In the area of financial services, Lang & Schwarz AG offers competent order execution, advice from an experienced sales team and the execution of equity trading-related services such as liquidity providing on XETRA or the implementation of individual share buyback programmes. Lang & Schwarz AG offers designated sponsoring for direct mandates as well as for mandates from outsourcing partners.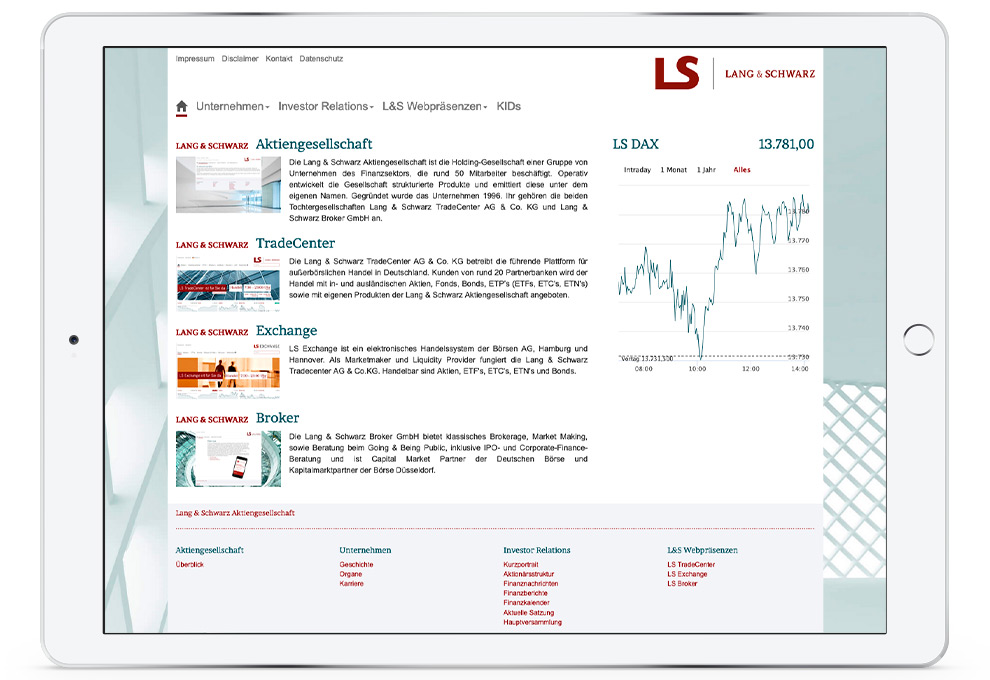 In addition, it issues its own products (warrants and certificates) on national and international shares, indices, currencies and commodity and bund futures. Through its subsidiary Lang & Schwarz TradeCenter AG & Co. KG, it also acts as a market maker in the approx. 4,000 of its own derivatives.
With its comprehensive trading hours, Lang & Schwarz TradeCenter AG & Co. KG is one of the recognised Market leaders in over-the-counter trading. Through partner banks and online brokers, investors can trade domestic and foreign equities from 7:30 a.m. to 11:00 p.m. Monday through Friday, from 10:00 a.m. to 1:00 p.m. on Saturdays, and from 5:00 p.m. to 7:00 p.m. on Sundays.
You can find further information on Lang & Schwarz at www.ls-d.de.