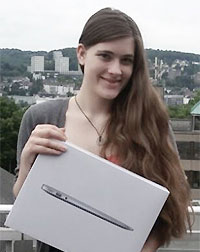 After the end of the voting for Broker of the Year 2015, the lucky winners were drawn from a large number of participants and were able to enjoy the Mac Book Air as the main prize, as well as 3 Apple Watches as bonus prizes.
Two of our winners were kind enough to send us a photo directly after the prizes arrived. Many thanks for this and the Brokerwahl team wishes you lots of fun and success with the prizes!
Grand Prize - Mac Book Air
Tanja Thiele from Wuppertal
(Photo right, ©private)
Bonus Prizes - Apple Watch
Uwe Beyer from Ilvesheim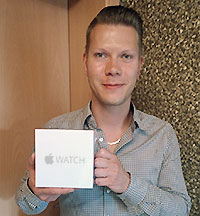 Sebastian Kahlert from Bergkirchen
(Photo below right, ©private)
Sebastian Fischer from Osnabrück
Trading Package
Sebastian Hennig from Karlsruhe
The other winners of the TRADERS' annual subscriptions and the Finanztreff.de trader were notified directly.